Happy Birthday, Ratbastard
Don Bruns is a
Ratbastard
.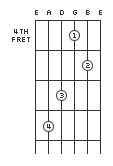 I've been reading his rants for a few years now and, except for a brief hiatus, he's been consistently angry in a most humourous way.
Don, I wish you all the best. My present to you is this fancy E chord:
His web site says he's 30. Guess he'll have to change that.