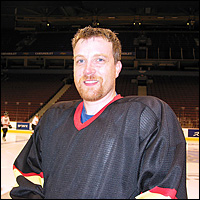 I forgot to post that I was lucky enough to play hockey at
GM Place
a few weeks ago.
I play hockey at 8 Rinks Burnaby with a crew from work, and the surface there is utterly crap. I think the bartender comes down and hack out a few chips for highballs from various places on the rink. So, it was a blessing to play on a well-maintained surface with the ability to actually
see
the painted lines.
Walking in the dressing room was pretty exciting, especially considering how big the place is, there was a TV, whiteboard, large changing areas, etc.
I was surprised how close the changing room is to the ice, about 30 feet outside the door. It must be intimidating for visiting rookie players, hearing the roar of the crowd as they await their call to the big show.
Oh, and there are a few
pictures of the event
.